Angels Yorkies & Designer puppies

We have 3 males for $6oo.00 that are charting to be 7 to 8 pounds that will be ready to go close to Christmas. We are saying between the 11th & 18th. We are now taking deposits to hold. Pictures of them along with Mother are below and will be adding more soon. you can find Fathers picture on the studs page.
THEY WILL COME WITH A PUPPY KIT THAT INCLUDES A SAMPLE OF PUPPY FOOD THAT WE ARE CURRENTLY FEEDING, A HEALTH GUARANTEE THAT INCLUDES YOUR FAMILY VET, A PUPPY AND DOG GUIDE,A new COLLAR THAT WILL HELP WITH A LIFETIME OF PET CARE. SOME SUPPLEMENT TO HELP KEEP THEM HEALTHY AND HAPPY WHILE THEY ADAPT TO THE NEW FAMILY . AND OF COURSE THEY CAN'T LEAVE WITH OUT FIRST SHOTS AND WORMED,
THE SHIH-POO ORIGINATING IN THE UNITED STATES (ALSO KNOWN AS A SHOODLE) IN HOPE OF CREATING A NEW HYPOALLERGENIC DOG. SHIH-POO'S ARE A FUN-LOVING AND ENERGETIC LITTLE DESIGNER DOG THAT WE LOVE MAKING. SHIH-POOS WILL RACE AROUND THE HOUSE OR RUN AROUND THE YARD, IT DOESN'T MATTER MUCH TO HIM. THIS CROSSBREED IS A GREAT COMPANION FOR FAMILIES WHO LIVE IN SMALL APARTMENTS OR HAVE LARGE BACKYARDS IN THE SUBURBS. HE'S QUITE ADAPTABLE TO A VARIETY OF LIVING SITUATIONS. IF YOU WOULD LIKE TO LEARN MORE ABOUT THIS BREED PLEASE READ OUR ABOUT SHIHPOO PAGE.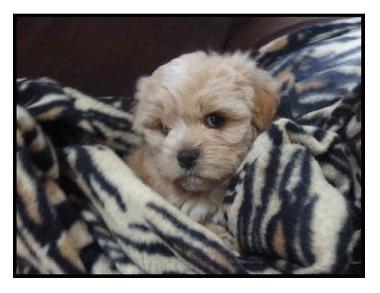 This was one of our Shih-poo that has grown up to be a wonderful loving dog. She is as beautiful as she was in this picture, with a magnetic personality that every one loves. They come in various Colors, All just as cute.
Angels Yorkies & Designer puppies Cincinnati Ohio