Frequently Asked Question

Q: How much does a puppy cost?
A: Because of the wide variety of puppies we offer, every puppy is priced on an individual basis.
Prices depend on sex, color, size, pedigrees, and AKC or CKC paperwork.

Q: What kind of puppy's do you sale
A: Yorkies, Morkies, Yorkipoo's, Shorkies,Shih poo's

Q: What kind of payments do you take?
A: We accept cash and all major credit cards.

Q: Do you ship?
A: No we do not. All puppies must be picked up by the buyer.

Q:How do we put a puppy on hold?
A: Call us and make an appointment to come out and see the puppy, at that time you will put a non refundable deposit of $100 down on the puppy and fill out some paper work. If placed on hold puppy must be paid in full at pick up at 8 weeks and picked up by date agreed to or all deposit will be forfeited. We will work with you on the date and time but date can not be changed to more than a day or two if given 24 hour notice and only 1 time.
Changing your mind or personal situations that may come up causing you not to fulfill the contract forfeits any and all money paid on puppy. non refundable does mean non refundable .
Q: What do we get with our puppy?
A:Here at Angels Yorkies & Designer puppies We do like to send you home with a starter kit to help make that first few days as easy as we can. We will send you home with a little bag of the puppy food that we are feeding. If you want to change to another, mix a little more of the puppy food that you will be using in with ours to keep the puppy from getting diarrhea. We will also give you a little book to refresh you, or give you a guide for newbie pet owners. Vaccinations and worming records and a copy of the health guarantee with whats needed with your puppy for the days to come. Registration papers if your puppy comes with them. and Supplement to last a few days. Canine Swag that I do work for does add to your goodie bag to take home. When we list the puppy for sale we have those items listed with the puppy at the time. We never know what they are donating a head of time. But we can say most of the time its crate mats,collars,leads,bowls, brushes. Any thing that can help a new pet owner with a head start. We so appreciate that they also make us look good and are so helpful to our puppy buyers, that we sure hope that you will give them the chance to meat your pet needs also. we have links to them all over our site and above marked in red. Please check them out, they carry some really nice stuff. They also from time to time have sales just for my customers. They do add stuff every little bit so there is something new to see from time to time

Q: Do puppies come with tails docked?
A: Yes, this is done between two and five days of age. The tails are cut "properly if the breed calls for it.
With some of our Yorkipoo & Morkies we have been asked not to and have found most people prefer to have a tail .

Q: Does my puppy come with a health guarantee?
A: Yes. Here at Angels Yorkies & Designer puppies Every puppy comes with a health guarantee. Under the terms of the health agreement any thing that may be found that would be considered life threatening and must be accompanied by a statement from the examining vet with findings or diagnosis. All shots have to be up to date. We do not cover broken bones, knees,head injuries and other things that have happen while in the care of new owners. Seller is not responsible for death or illness due to hypoglycemia (sugar drop). Hypoglycemia can be brought on by a number of reasons including not eating properly,or being handled to much and the stress of being moved to a new home. It is the responsibility of the buyer to ensure proper nutrition and care. Once a puppy leaves us we have no control so we can not guarantee. Angels Yorkies & Designer puppies will do every thing in our power to give you the tools to make this time go smooth and will help in any way we can. Please go over and read the page we have on hypoglycemia and our supplements and nutrition page. We will also send you home with supplement to help with the first few day for when the puppy is under stress from leaving.
Q: Do the puppies have any shots and/or worming before they leave?
A: Yes. We start giving puppy shots at 6 weeks of age. Then at around every three to four weeks after that should the pups still be here. They should have a series of three puppy shots. Worming are also started around two weeks of age and given every couple of weeks.

Q: Do you recommend any supplements ?
A: Yes we do, We recommend NuVet and we will send some home with you till you can order more along with more information on them Unfortunately, the majority of dogs and cats are not receiving a complete, healthy diet and many become ill and die prematurely. Most pet diets are lacking the proper amounts of vitamins, minerals and antioxidants. We have provided more info and a link on our nutrition and supplements page that will lead you to the web site and other healthcare products that they have that can help when bring a new puppy home like Pet stain and Oder Remover. Angels Yorkies & Designer puppies don't personally sell NuVet Plus so you will have to call NuVet to place your order. We have phone number and code on our nutrition and supplements page,or hit the button at the bottom of the page and it will take you to them. This is what we give to our dogs and they love it. As a groomer we also use only their ear cleaner because its doesn't bother the dogs like others and works so well. The supplements will also make it less likely to have any Hypoglycemia issues. Because our puppy's are so small a bottle will last a pretty long time. We have not had the pleasure of trying all the products, but the ones we have we love.

Q: What about a puppy kindergarten for my new puppy?
A: Great! Any money spent on training your puppy is money well spent. They will train you right along with the puppy! There is also lots of training tips online and in the library.


Q: How soon should I take my puppy to the groomers?
A: Being a groomer myself I have worked with "puppies" who are now older and have never had clippers or dryers used on them! Groomers like to work with puppies! All my pups need grooming! We have been trimming nails, trimming butts, trimming the hair in the corners of their eyes since about 3 weeks of age. They have had a couple of baths before they leave our home. The younger you start anything, the better! They need groomed all their lives and we like to make it a good experience for them. Lots of smooth talking and reassurance makes for a pleasant pup to work on. Go to a groomer who will work on your puppy while it is still young. Even if they don't do a lot the first couple of times, it will get the pup used to what goes on. The dog also remembers his training and socialization skills which make for a very relaxed day for dog and groomer.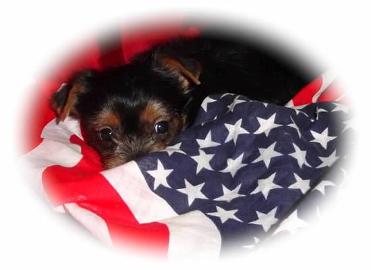 Angels Yorkies & Designer Puppy's Cincinnati Ohio 513-528-3186